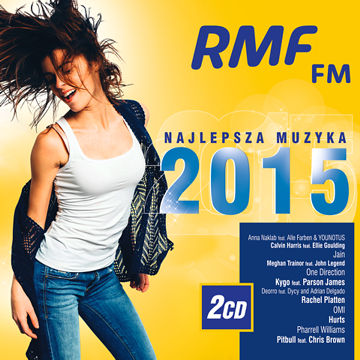 RMF FM wie najlepiej jak trafić w gusta słuchaczy. Album RMF FM Najlepsza muzyka to zbiór największych hitów 2015 roku, które królowały i nadal królują na playliście najpopularniejszej stacji radiowej w Polsce.
Wśród wielu niekwestionowanych hitów uwzględnionych na kompilacji znalazły się m.in. Lush Life (Zara Larsson), Supergirl(Anna Naklab), Worth It (Fifth Harmony), Stole the Show (Kygo feat. Parson James), Freedom (Pharrell Williams), Fun (Pitbull feat. Chris Brown) oraz Some Kind of Heaven (Hurts). To dwupłytowe wydawnictwo poświęcone jest wyłącznie najgorętszym kawałkom.
Lepszego muzycznego podsumowania roku nie znajdziecie nigdzie indziej. Co więcej, dzięki gorącym i tanecznym rytmom Słońce będzie wam towarzyszyć w trakcie chłodnego zakończenia roku. Pozycja obowiązkowa dla każdego słuchacza.
Płyta RMF Najlepsza muzyka 2015 dostępna tutaj:
http://smarturl.it/RMFFM2015_Empik
CD 1
1. Anna Naklab feat. Alle Farben & Younotus – Supergirl
2. Jain – Come
3. Kygo feat. Parson James – Stole the Show
4. Zara Larsson – Lush Life
5. Hurts – Some Kind of Heaven
6. Calvin Harris feat. Ellie Goulding – Outside
7. OMI – Hula Hoop
8. Szymon Chodyniecki – Sam na sam
9. Rachel Platten – Fight Song
10. Walk The Moon – Shut up and Dance
11. Gromee feat. Wurld – Who Do You Love
12. One Direction – Night Changes
13. Emma Bale & Lost Frequencies – Run
14. Avicii – Waiting For Love
15. Elle King – Ex's & Oh's
16. Fifth Harmony feat. Kid Ink – Worth It
17. Sia – Elastic Heart
18. Meghan Trainor feat. John Legend – Like I'm Gonna Lose You
CD 2
1. Pitbull feat. Chris Brown – Fun
2. Pharrell Williams – Freedom
3. OMI – Cheerleader
4. Little Mix – Black Magic
5. Baby K feat. Giusy Ferreri – Roma – Bangkok
6. Deorro feat. Dycy and Adrian Delgado – Perdoname
7. Kygo feat. Conrad Sewell – Firestone
8. David P. – No (ZwetteRemix)
9. George Ezra – Barcelona
10. Alex Adair – Heaven
11. The Young Professionals – All of it But Me
12. The Janoskians – Friend Zone
13. Neony – Mydlane Bańki
14. Delta Goodrem – Wings
15. Anastacia – Take This Chance
16. TaLLib ft. Mesajah – Moi Ludzie
17. Ciara – Dance Like We're Making Love
18. Rita Ora feat. Chris Brown – Body on Me
Źródło: Sony Music