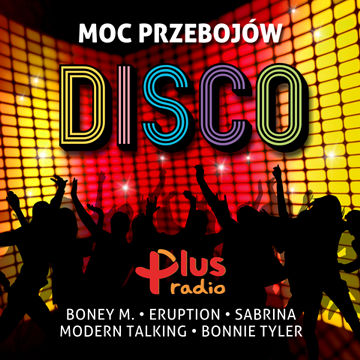 Radio Plus prezentuje Moc przebojów disco!
Na dwupłytowej składance firmowanej przez dziennikarzy popularnej stacji radiowej spotkały się największe gwiazdy muzyki tanecznej lat 70. i 80. Modern Talking, The Pointer Sisters, Boney M, Gazebo, Sabrina, Eruption, Cyndi Lauper, Billy Ocean, Earth, Wind & Fire, Amanda Lear oraz The Jacksons. Wszyscy w swoich największych i rozpoznawalnych na całym świecie przebojach!
Dobrą zabawę gwarantują nieśmiertelne hity: "Cheri Cheri Lady", "Dolce Vita", "I Like Chopin", "Bamboleo", "Rivers of Babylon", "Girls Just Wanna Have Fun", "It's Raining Men", "September", "Felicitia", "Mamma Maria" oraz wiele innych. Przy tej muzyce nie sposób się nudzić i trudno przy niej usiedzieć w miejscu. Posłuchajcie i przekonajcie się, że to kultowe dyskotekowe brzmienie jest ponadczasowe. Disco nie zestarzeje się nigdy.
Składanka Radia Plus to zabawa na całego!
Kompilacja Moc przebojów disco dostępna tutaj:
CD: http://smarturl.it/RadioPlus_Empik,
Wersja cyfrowa: https://sonymusicpoland.lnk.to/RadioPlus_Digital
Tracklista:
CD 1
1. Modern Talking – Brother Louie
2. Boney M. – Rivers of Babylon
3. Eruption – One Way Ticket
4. Baccara – Yes Sir, I Can Boogie
5. Gipsy Kings – Bamboleo
6. Umberto Tozzi – Gloria
7. Sarah Brightman & Hot Gossip – I Lost My Heart To A Starship Trooper
8. Whitney Houston – I Wanna Dance with Somebody
9. The Jacksons – Blame It On The Boogie
10. Labelle – Lady Marmalade
11. Ryan Paris – Dolce Vita
12. Nena – 99 Luftballons
13. Tony Renis – Quando Quando Quando
14. Cyndi Lauper – Girls Just Wanna Have Fun
15. Miami Sound Machine – Dr. Beat
16. Ricchi E Poveri – Sara perché ti amo
17. Bonnie Tyler – Holding out for a Hero
18. The Hues Corporation – Rock The Boat
CD 2
1. Gazebo – I Like Chopin
2. Ricchi E Poveri – Mamma Maria
3. Modern Talking – Cheri Cheri Lady
4. The Weather Girls – It's Raining Men
5. Heatwave – Boogie Nights
6. Boney M. – Brown Girl In The Ring
7. Amanda Lear – Enigma (Give a bit of mmh to me)
8. Shakin' Stevens – A Letter To You
9. Baccara – Sorry, I'm a Lady
10. Billy Ocean – Are You Ready
11. Bay City Rollers – I Only Want to Be with You
12. Earth, Wind & Fire – September
13. Sabrina – Boys (Summertime Love)
14. Al Bano & Romina Power – Felicita
15. Gloria Estefan and Miami Sound Machine – Conga
16. The Pointer Sisters – I'm so Excited
17. Leif Garrett – I Was Made for Dancin'
18. Los Bravos – Black Is Black
Źródło: Sony Music