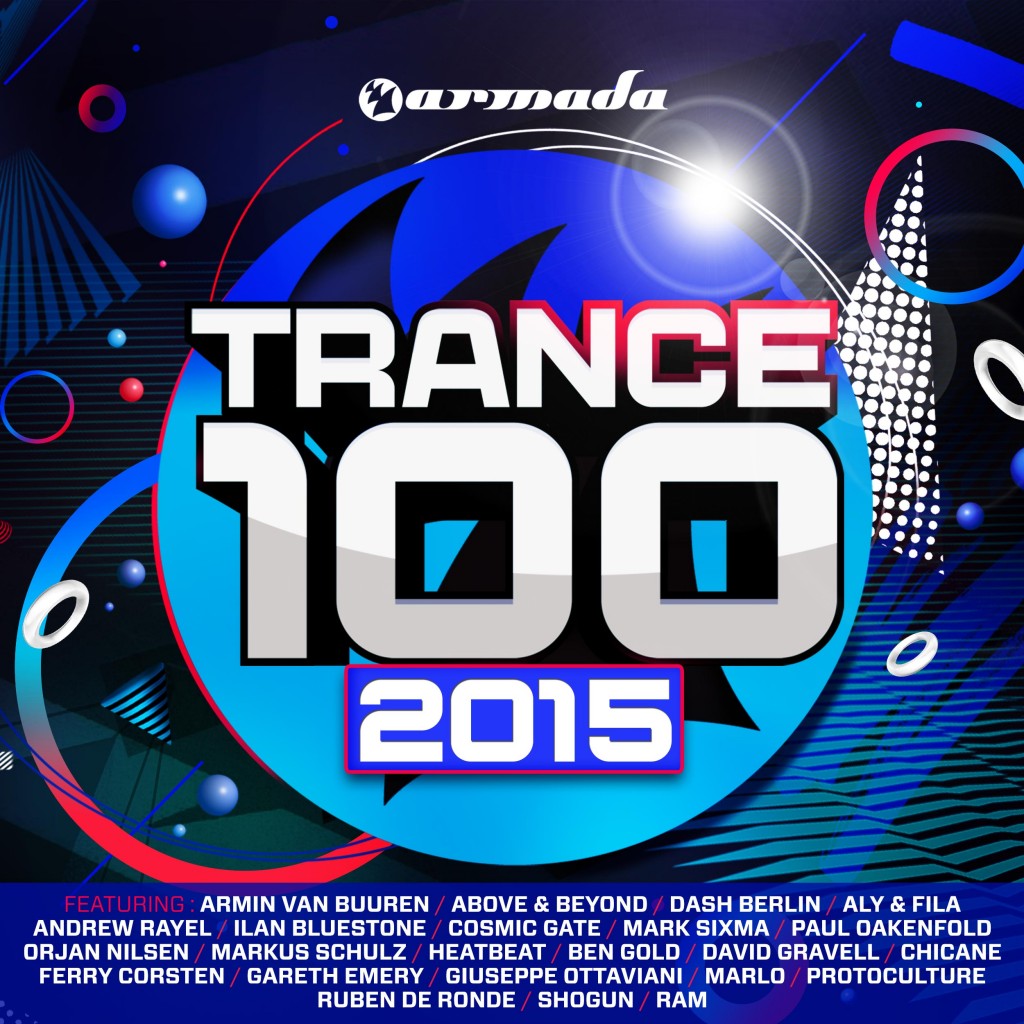 Ten album, to prawdziwe kompendium muzyki trance. Zawiera 4 płyty, na których aż 100 utworów, co daje ponad 300 minut klubowego grania. Wydawnictwo, które zaspokoi nawet najbardziej wybrednego fana elektronicznych brzmień. Po prostu musisz to mieć!
Każdy miłośnik nowych brzmień, ma czasem ochotę posłuchać konkretnego gatunku muzyki elektronicznej. Jednak pośród wielu ukazujących się obecnie tytułów, na których zwykle jest mix wszystkiego, trudno znaleźć dla siebie coś idealnego. Jeżeli jesteś prawdziwym fanem muzyki trance, to mamy dla Ciebie ciekawą alternatywę, nową serię pt. "Trance 100". Potężny, 4-płytowy box, na którym aż 100 najlepszych na ten moment trance'owych utworów.
Armin Van Buuren, Rank 1, Above & Beyond, Dash Berlin, Paul Oakenfold, Chicane, Gareth Emery, RAM, Cosmic Gate, Aly & Fila, Mark Sixma, Markus Schulz, Rank 1, Simon Patterson, Sean Tyas, Giuseppe Ottaviani, Orkidea, DRYM, Rodg, Super8 & Tab, Andy Moor i wielu, wielu innych. Takiego zestawu nie znajdziesz nigdzie indziej! Każdy krążek zawiera 25 pozycji, to łącznie ponad 4-godzinny maraton z muzyką trance. Tylko tutaj usłyszysz topowe produkcje, od mistrzów sceny klubowej. Klasyki i nowości, wszystko w jednym miejscu. Prezentujemy "Trance 100 – 2015".
Tracklista:
CD 1:
Armin Van Buuren – Together (In A State Of Trance)
Dash Berlin feat. Roxanne Emery – Shelter (Photographer Remix)
Cosmic Gate & Eric Lumiere – Falling Back (Mark Sixma Remix)
Above & Beyond feat. Alex Vargas – Blue Sky Action (Grum Remix)
Ferry Corsten – Pogo (Faruk Sabanci's Dirty Rock Remix)
Andrew Rayel – Followed By Darkness
Chicane feat. Bo Bruce – Still With Me (Andi Durrant Remix)
Rank 1 – Airwave (21st Century Remix) (Trance Top 1000 Classic Reloaded)
Ben Gold feat. Christina Novelli – All Or Nothing
Orjan Nilsen – Shenanigans
Ron Van Den Beuken feat. Imogen Heap – Headlock (Ron Van Den Beuken Remix)
Gareth Emery feat. Christina Novelli – Dynamite
Omnia feat. Jonny Rose – Two Hands
Aly & Fila with Ferry Tayle – Nubia
Heatbeat & Quilla – Secret
Shogun feat. Adara – Dragon
Bobina – Winter (Simon O'Shine Remix)
Mark Sixma – Vendetta
Protoculture – Everytime You Smile
Paul Oakenfold feat. Tiff Lacey – Hypnotized (Markus Schulz Remix)
Arisen Flame & Driftmoon – Live Your Dream
Craig Connelly feat. Cate Kanell – Shipwreck
Richard Durand & Fisher – In Your Hands
The Thrillseekers – Find You
Mason – Exceeder (Corderoy Remix) (Trance Top 1000 Classic Reloaded)
CD 2:
Cosmic Gate with Kristina Antuna – Alone (Maor Levi Remix)
Armin Van Buuren – Save My Night (Andrew Rayel Remix)
Markus Schulz feat. Lady V – Winter Kills Me (Fisherman & Hawkins Remix)
Shogun – Laputa
Tomas Heredia – Rivals (DRYM Remix)
Ben Gold – Atomic
Husman – Exodus
MaRLo – Barracuda
Speed Limits & Jaco feat. Joni Fatora – Palm Of Your Hand (Alex Klingle Remix)
Stoneface & Terminal – Caligula
Rodg – Hot Merchandise
Myon & Shane 54 with Kyler England – Summer Of Love (Inpetto Remix)
Philthy Chit – Tranquiliser
LTN – Let Me Go
Ruben De Ronde – Timide (Wellenrausch's Dark Matter Remix)
Paul Oakenfold & Cassandra Fox – Touch Me (Beat Service Remix) (Trance Top 1000 Classic Reloaded)
Same K – Diamond (Rodg & Ruben De Ronde Remix)
David Gravell – Kaiju
Shaan feat. Lauren Evans – Light Up The World
DoubleV – The Gate
Faruk Sabanci – Ruya
Sick Individuals – Wasting Moonlight (Andrew Rayel Remix)
Denis Kenzo & Sveta B. – Deep In My Heart
Dan Thompson – Chronicle
Signum – What Ya Got 4 Me (Duncan Newell Remix) (Trance Top 1000 Classic Reloaded)
CD 3:
Aly & Fila with Stoneface & Terminal – Universelab
Armin Van Buuren feat. Laura Jansen – Sound Of The Drums (Bobina Remix)
ilan Bluestone & Jerome Isma-Ae – Tension
Dash Berlin & 3LAU feat. Bright Lights – Somehow
Make One – Syndrome
DRYM – Panacea
Tenishia & Somna feat. Michele C. – Show Me A New World (Tenishia Remix)
Masoud feat. Melissa Loretta – Best Days (Club Mix)
Rodg – Pendejo
Ruben De Ronde – They Are Not You (LTN Remix)
Ronald Van Gelderen feat. Gaelan – I Will Love Again
Heatbeat – Berserker
Super8 & Tab feat. Julie Thompson – Let Go (Andy Duguid Remix)
Nhato – Aurora
Alexandre Bergheau & Geert Huinink – Desert Wings
Signum – Any Given Moment (Manuel Le Saux Remix) (Trance Top 1000 Classic Reloaded)
Hazem Beltagui – Hyperion
Arisen Flame – Redemption
Sean Tyas & Giuseppe Ottaviani – Plan B
RAM – Clockwork Orange
Driftmoon – Effervescence
Dennis Sheperd feat. Chloe Langley – Bring You Home (Ronski Speed Remix)
UCast & George Kamelon – Jump
Will Atkinson – Harvester
Armin Van Buuren – Communication (Paul Oakenfold Full On Fluoro Remix) (Trance Top 1000 Classic Reloaded)
CD 4:
Abstract Vision – Rocket (Photographer's Intro Edit)
Armin Van Buuren – Hystereo (Heatbeat Remix)
Photographer – Rebound
ReOrder & Standerwick pres. SkyPatrol – Skyres
Simon Patterson – Whites Of Her Eyes
Matt Bowdidge – Second Sun
Betsie Larkin & Andy Moor – Not Afraid (Adam Ellis Remix)
James Dymond – Samples Of Silk
Giuseppe Ottaviani – Liverpool (Standerwick Remix)
Orkidea – Purity (Sneijder Remix)
Hazem Beltagui & Aneym – Remember Me
UCast – LAX
Jordan Suckley – Elation (Joint Operations Centre Remix)
Dart Rayne & Yura Moonlight – Razor
Will Atkinson – Sharpshooter
Ben Nicky & Standerwick – Drop
Fady & Mina feat. Romi Cage – Don't Wait
Allen Watts – Kepler
Jase Thirlwall – Airborne (Standerwick Remix)
Signum feat. Scott Mac – Coming On Strong (Psymes & BlueHawk Remix) (Trance Top 1000 Classic Reloaded)
Mohamed Ragab feat. Eli – Passionflower (ReOrder Remix)
Sied Van Riel vs. Standerwick – In A Perfect World (Solarstone Pure Mix)
Flynn & Denton and Audrey Gallagher – Say My Name (Alex M.O.R.P.H. Remix)
Arisen Flame – Hyper
DJ Misjah & DJ Tim – Access (John Askew Remix) (Trance Top 1000 Classic Reloaded)
PREMIERA: 21.04.2015, JUŻ W SPRZEDAŻY!
Wydawnictwo dostępne jest również w wersji cyfrowej.